1903 Ulysses Storm among windiest ever in British Isles
April 24, 2023
By Paul Homewood
h/t Euan Mearns
This is a very interesting read:
A mighty storm that tore across Ireland and the UK more than a century ago produced some of the strongest winds the British Isles have ever witnessed.
Scientists reviewed Storm Ulysses of 1903 by digitising paper-based weather readings from the time and subjecting them to a modern reanalysis.
Many places would have felt gusts in excess of 45m/s (100mph or 87 knots).
The cyclone left a trail of death, shipwrecks, smashed infrastructure, uprooted trees and widespread flooding.
"We think it is likely that the winds were stronger in some locations than anything in the modern period 1950-2015," explained Prof Ed Hawkins from the University of Reading and the National Centre for Atmospheric Science.
"The precise values are a bit uncertain as the reanalysis does not produce gust values at the surface but they would have been pretty high to cause the damage we see in photos from the time – on a par with big storms in 1990, 1997, 1998 and the Great Storm of 1987," he told the BBC.
Storm Ulysses is so called because it inspired a passage in James Joyce's famous novel Ulysses.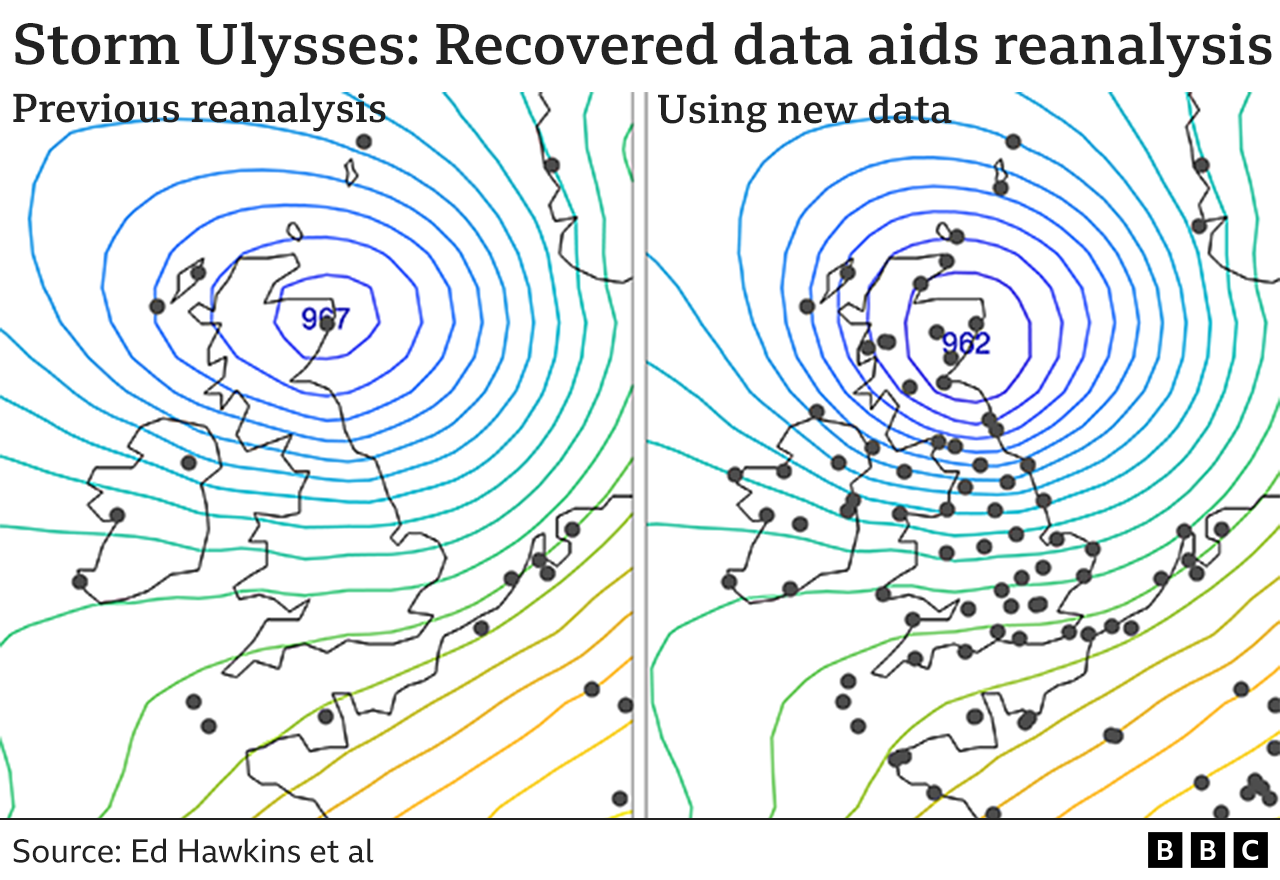 The windstorm blasted through the British Isles over 26 and 27 February. Its track ran across Ireland, northern England and Scotland.
The Times newspaper recounted widespread damage, a sizeable number of injuries, and fatalities.
The Royal National Lifeboat Institution (RNLI) reported 10 significant crew rescues from distressed ships. A pier in Morecambe was damaged, and a train in Cumbria was blown over.
Ulysses' ferocity was well recognised at the time. But by reanalysing the raw weather observations from 1903, using the very latest modern numerical modelling techniques like those that produce today's daily forecasts, researchers have now obtained a new, more detailed appreciation of the event
Read the full story here.
What is particularly interesting is how this new reanalysis compares with what was reported at the time:
https://digital.nmla.metoffice.gov.uk/IO_5b71781a-3386-40f9-9093-ece63944a34e/
It is now believed that many places experienced gusts of over 100 mph, which is well above anything actually recorded at the time. As we find with hurricanes, anemometers in the past were often not in the places where gusts are highest. Whereas as now we have a host of automatic monitors in the most exposed places.
Storm Ulysses shows why it is difficult to make direct comparisons with storms in the past.